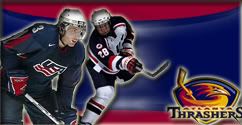 After remaining silent for a longer period GM Niehenke shocked the league with moving young star defenseman Dion Phaneuf. In return Atlanta recieved Anthony Stewart former first round pick, a first round pick, and Jack Johnson the second highest touted defensemen prospect.
Now Atlanta posseses the two highest regarded young defenders yet to play the NHL out there. Jack Johnson joining Eric Johnson should be the proper building block for the young Atlanta franchise. Drafted one year seperate there is no correlation between the two, though same last names. The Thrashers now possibly own the best plethora of young defenders in the league, with several other great young names. The trade also turned Calgary's defense core into possibly the best in the league at the moment.
GM Niehenke had a lot to say about the trade: "This trade was purely done out of getting who we felt is the best young defender out there. Obviously Phaneuf is a great talent himself, but does not fit into the plan for the future. Jack Johnson brings an all around great game, and in our scouts opinion better overal game then Phaneuf, at three years younger."
Jack Johnson already played his first game, and was one of the only players to post a positive +/- in the
2-1 loss to Philadelphia. When asked about the trade, and possibilty to play in the NHL J. Johnson replied:
"When I first heard about it I was kind of shocked. It is all settled down now though, and from the short stint I like what I have seen here in Atlanta. It is nice to know that my name is already being put up with names like Phaneuf. GM Niehenke has shown great respect to me and already the coaching staff has let me play a NHL game. I think as the year progresses I will be back in the AHL, but its nice to see the tenacity it takes to play in the top league."
GM Niehenke closed with these comments: "A trade like this just goes to show that no one is safe on a team.
We wish the best to Phaneuf in Calgary. "