Welcome to the second installment in this series where we will release prospects #41-50 in the Carolina farm system which will be highlighted by goaltender Kevin Nastiuk who played in 4 games for the Canes in the 07/08 NEFHL season.
#50 - Ilmari Pitkanen - LW
Picked by Carolina in the 4th round of the 2008 draft, Ilmari is a sleeper prospect who comes to the organization with a well rounded game. He is very responsible in his own end of the rink and can contribute offensively as well. Coaches have had no problems putting him out in any situation whether it be the PK or the PP. He is also becoming more known for his physical game as well as he is a tireless forechecker capable of causing defensemen many headaches. Ilmari will play over in Finland again this upcoming season and his status with the franchise will be reevaluated next summer. A big season would see him move up these rankings quickly.


#49 - Trevor Hendrikx - D
Trevor is a big physical defenseman who really likes to fight. He has always been known as a fighter throughout his career, but has begun rounding out his game in recent seasons as evidenced by his 31 points in 70 games for the Elmira Jackals of the ECHL this past season. He still found a way to get his fights in as well finishing with 170 PIMs on the year. He is now becoming known as a strong defender in the Carolina system as well and hopes to use that to move up the depth charts and hopefully see some NEFHL time. He has a long ways to go if he ever hopes to reach those lofty goals, but this past season was a step in the right direction. Trevor has 1 year remaining on his entry level deal and he better have a huge year if he hopes to get re-signed.


#48 - Mario Bliznak - C
Drafted in 2005 by the Rangers, Mario was acquired by Carolina in the Josh Gorges deal last summer. He brings with him to the organization a hard working, defensive style of play that made him a great player for the Vancouver Giants of the WHL. Not the flashiest player around, he finds ways to get the job done. Never known as a strong offensive player, Mario found a way to put up 51 points in 67 games last season with the Giants while playing on a line with fellow Canes prospect Spencer Machacek. The Canes rewarded him with a late season callup for 1 game in the NEFHL. He will make the transition full time to the AHL this upcoming season and will try to build on his 07/08 campaign.

#47 - Michael Ward - D
Drafted in the 8th round in the 2007 NEFHL draft, Michael is a big stay at home defenseman who doesn't bring much to the table offensively. Playing with Lewiston in the QMJHL last season he managed just 20 points in 70 games, but got rave reviews form around the league for his defensive play and leadership. His ceiling seems like a 3rd pairing defenseman who excels on the PK, but he will have to do a considerable amount of work to reach that goal. He has one more season of junior hockey to impress the Canes franchise enough to be signed to an entry level deal next summer.


#46 - Jesse Dudas - D
Purely an offensive defenseman, Jesse has impressed scouts with his excellent passing ability over the years. He always seems to find the open man and puts up points wherever he goes. That being said, he struggles mightily in his own end of the rink. He has also had a lot of trouble with injuries as evidenced by his career high of 52 games played this past season. These injuries are becoming a concern to the front office as he is getting labeled as injury prone. This upcoming season will be huge for Jesse as he tries to shake off that reputation and make a move into professional hockey. He was signed to a 3 year entry level deal this offseason and will now go about trying to prove his worth.



#45 - Stephan Chaput - C
Another of this offseasons entry level deal signees, Stephan was picked up in the 7th round of the 2006 draft. He is a skilled forward with a nose for the net and is coming off a career year where he tallied 69 points in 62 games with Lewiston of the QMJHL. Known primarily as an energy guy coming into the season, he picked up the offensive game in a big way to go with his hard working physical style. He could develop into a very good 3rd or 4th liner if he continues on his projected path to the NEFHL. He drew most of the tough assignments defensively this season and shut down a lot of top players while filling the net at the same time. That kind of output was not overlooked by the Canes as he was signed for 3 years and will begin his pro career this fall.

#44 - TJ Miller - D
A 3rd straight recent signee enters the list at #44 with TJ Miller. After showing a ton of offense in the BCHL a couple seasons ago, TJ has turned into more of a defensive player in the NCAA and his scoring has all but disappeared. That being said, he had a great season for Northern Michigan and was one of the leaders on the team. Carolina really likes his tough play as he uses all of his 6'4" frame to punish opposing forwards. While not putting up the big numbers in college, its nice to know he does have that ability stored in there somewhere. He has the ability to turn into a 2nd or 3rd pairing defenseman in time and will begin that task this fall with Albany in the AHL.

#43 - Kevin Nastiuk - G
Its hard to believe a goalie who appeared in 4 games with Carolina last season would appear so low on this list, but here he is. A lot of that may have to do with is struggles in the latter portion of the season as well as his current contract situation. He has refused to sign a 1 year deal with the franchise as they attempt to give him another chance to prove himself and is therefore holding out and looks unlikely to get signed. That being said, Kevin does have the ability to become a very solid goaltender. He was having a very solid season with Albany before he got hurt this past season and that really sent his year into a tailspin that saw him spend time in the ECHL as well. He will hope to get his game back on track this fall wherever he ends up playing with the hope of signing a long term deal to stay with the Canes.

#42 - Radim Ostrcil - D
Picked in the 3rd round of the 2007 draft, Radim had a tying season in his North American debut with Ottawa in the OHL. Coming over, he was known a slick puck moving offensive defenseman but he managed just 13 assists over 59 games. At times he looked totally lost in the defensive end too and ended up riding the pine on more than 1 occasion. He is still young though and should hopefully have a bounce back season in 08/09. The Canes will be patient with him, but if he wants to be signed next summer, he will have to have a big year. This is very possible too as he has proven in the past that he is better than he showed last year.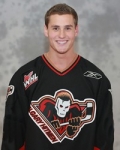 #41 - Brett Sonne - C
Brett was having a breakout year in the WHL with Calgary this past season before a broken leg sidelined him for upwards of 50 games. He still managed to put up 20 points in 29 games, but wasn't the same played upon his return. He is a feisty player who loves to play physical and is known as a leader for the Hitmen. He
seems like a perfect fit as a 3rd line winger, but has been primarily a centre thus far in his career. He is a tenacious forechecker and makes life difficult for opposing defensemen night in and night out. If he can get back to the form he showed early last season, there is no doubt he will get a contract offer from Carolina in the summer of 09.


That's all for now, #31-40 will be up next.