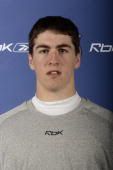 The GM Mathieu Leblond has been busy during this off season. It all started with the 2007 entry draft that went well according to GM Leblond. "When I took over the team after the playoffs I was happy to have 2 first round picks. We were aiming for forwards mostly in this draft as we have a good core of young defense. Although I could not let go a chance to pick up Ryan McDonagh, he will be a force on the blue line in the years to come." As their second first round pick Detroit selected Stefan Legein. Lots of people were surprised to see him get picked that early. We asked GM Leblond to comment on this. "We have been watching Stefan work for a few years now and were very please by his work ethics. Plus he as fast as the fastest skater in the NHL. We knew he would get picked before our next pick in round 2." Here are the list of selected players by Detroit:

Read More....
15. RedWings (from Rangers), Ryan McDonagh(07) 12
21. RedWings, Stefan Legein(07) 37
42. RedWings (from Sabres), Trevor Cann(07) 49
51. RedWings, T.J. Galiardi(07) 55
87. RedWings (from Blues), Bryan Cameron(07) 82
141. RedWings, Luca Caputi(07) 111
171. RedWings, Jamie Benn(07) 129
201. RedWings, Jeff Desjardins(07)
231. RedWings, Andrew Loverock(07)
Aside from the entry draft GM Leblond had a few player contracts to take care. The biggest one was for UFA loyalty J-S Giguere. Gigere signed a 4 year contract worth 14,400,000$ millions US (3,600,000$ a year). Being a top 5 goaltender in the league, both parties were happy about the deal. Other notables are signing of RFA Marco Sturm for 2,150,000$ millions for three years and Mikael Holmqvist for 1,300,000$ millions for two years. We heard from GM Leblond that he will not be sending qualifying offers to Kyle Wanvig and Michael Leighton.
The league has been very busy in the off season for trades. Detroit has been quite so far, GM Leblond explains. "We have positions to fill in our organisation. With the lost of Nylander and Murray, it will be hard to replace them but I am confident we can pick up a couple guys from UFA market on the 1st of august." Rumors are Nylander might be back with Detroit next year. When we asked GM Leblond for a trade block this is what he replied. "We have limited moves as we wish to complete our lines. We may be able to move some of our defense as we have good depth. We really want to be active but are limited to waiting UFA hunting season."
Detroit fans will have to be patient with their new GM and can expect a very active month of august. The organisation wanted to mention that there's still good season ticket available and to call the box-office to get the early bird special.