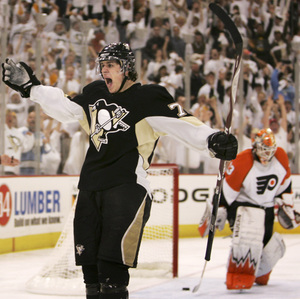 Despite having a much stronger team on paper, the Pittsburgh Penguins upper management have decided not to raise ticket sales in dedication to their strong fan base.
The Penguins managed to sell out all of their home games during the preseason and are anticipating the same outcome for a majority of their 41 games at home. The team is bringing in roughly 1.2 million dollars in revenues per home game and are more then satisfided.
"We truly appreciate our fans and the emotions they bring to Mellon Arena every game. The fans are the ones that motivate our players to perform well and we feel that it is necessary to make them happy in order to continue generating the maximum ticket sales possible. We know we are a better team this year and we refuse to make the fans pay more then they have to."
stated GM Brent Bellio.
In the offseason the Penguins brought in Ray Whitney and Keith Carney via free agency, Brian Campbell, Scott Neidermayer, Jaromir Jagr, Corey Stillman, Andrew Brunette, and Per Johan Axelsson through trade. Despite the acquistion of these established NEFHL'ers the Penguins are going to keep tickets at $35 dollars a piece.
The Penguins season ticket sales have went up 15% this year. Management has allocated 14,000 tickets to season ticket holders leaving 5,000 tickets available per home game to the general public.
"We want to make sure that we have a large majority of the building filled with Penguins fans. At the same time, we want to draw new fans in order to broaden our fan base across the state and country."
said Bellio
Maxime Talbot, Jordan Staal, Brian Campbell Evgeni Malkin, Brooks Orpik, and Glen Metropolit were responsible for delivering tickets to season ticket holders in the area.

"It's a great way to give back to the fans and the community. We are the only team in the league that does this so I think it really sets us apart from other teams in how we respect and cherish our fans."
said Staal
Hopefully Penguins fans help to give them the edge at home this season.